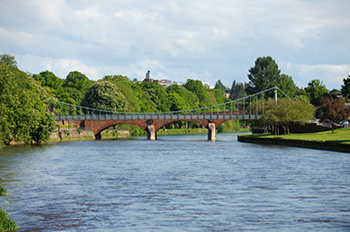 River Nith

....visit the areas estates and museums
The next town on from Sanquhar on the A76 is the beautiful town of Thornhill. There are a selection of upmarket Boutique's, restaurants and cafes and it is home to the famous Drumlanrig Castle Estate, owned by the Duke and Duchess of Buccleuch.

The castle and its surrounding grounds are open to the public. Take a picnic and enjoy the magnificent walks and many cycling trails and there is an adventure playground for the children to enjoy.

In the other direction, following the B740, towards Lanark you will find a host of activities around the lively market town of Lanark.
One of the main attractions is the historic New Lanark museum, with magnificent scenery and the falls of Clyde.

Well worth a visit!